2023
Urban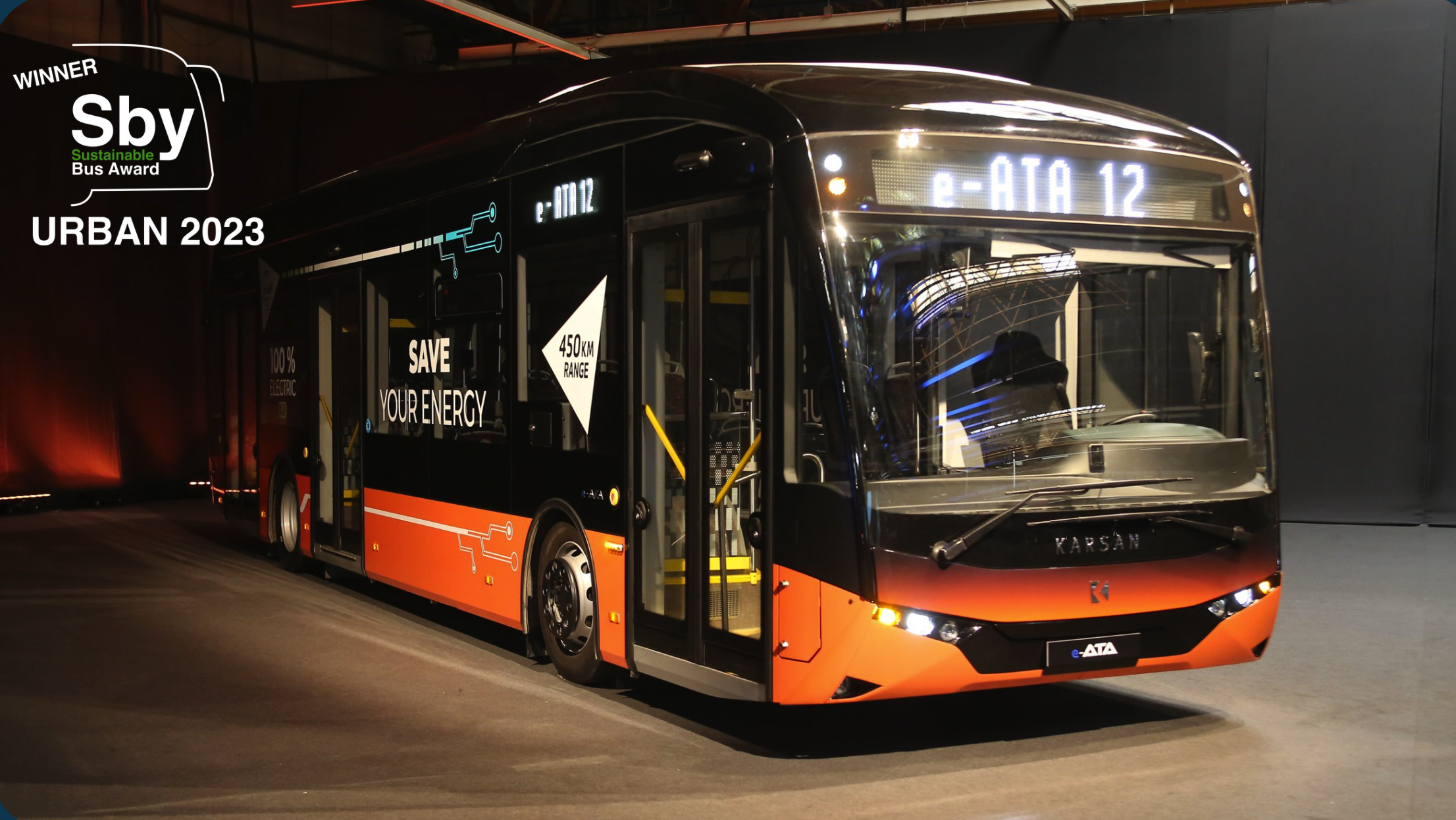 Karsan e-ATA 12
The e-ATA 12 is the centerpiece of Karsan's ambitious electrification offensive. The group has fully embraced the challenge of decarbonizing urban public transport: it will no longer invest resources in the development of ICE buses. Karsan launched a full range of electric vehicles at the end of 2021, adding the 10-, 12- and 18-metre to the previous six- and eight-metre models (which have enabled the company to lead in the zero-emission mini and midi bus segment for the past two years). What is instrumental, the vehicles are based on a platform built from scratch for the electric powertrain and feature components from industry-leading global brand suppliers. The vehicles full low floor provides the elder and disabled people easy movement. What is more, recycling rate of components is above 95%
Intercity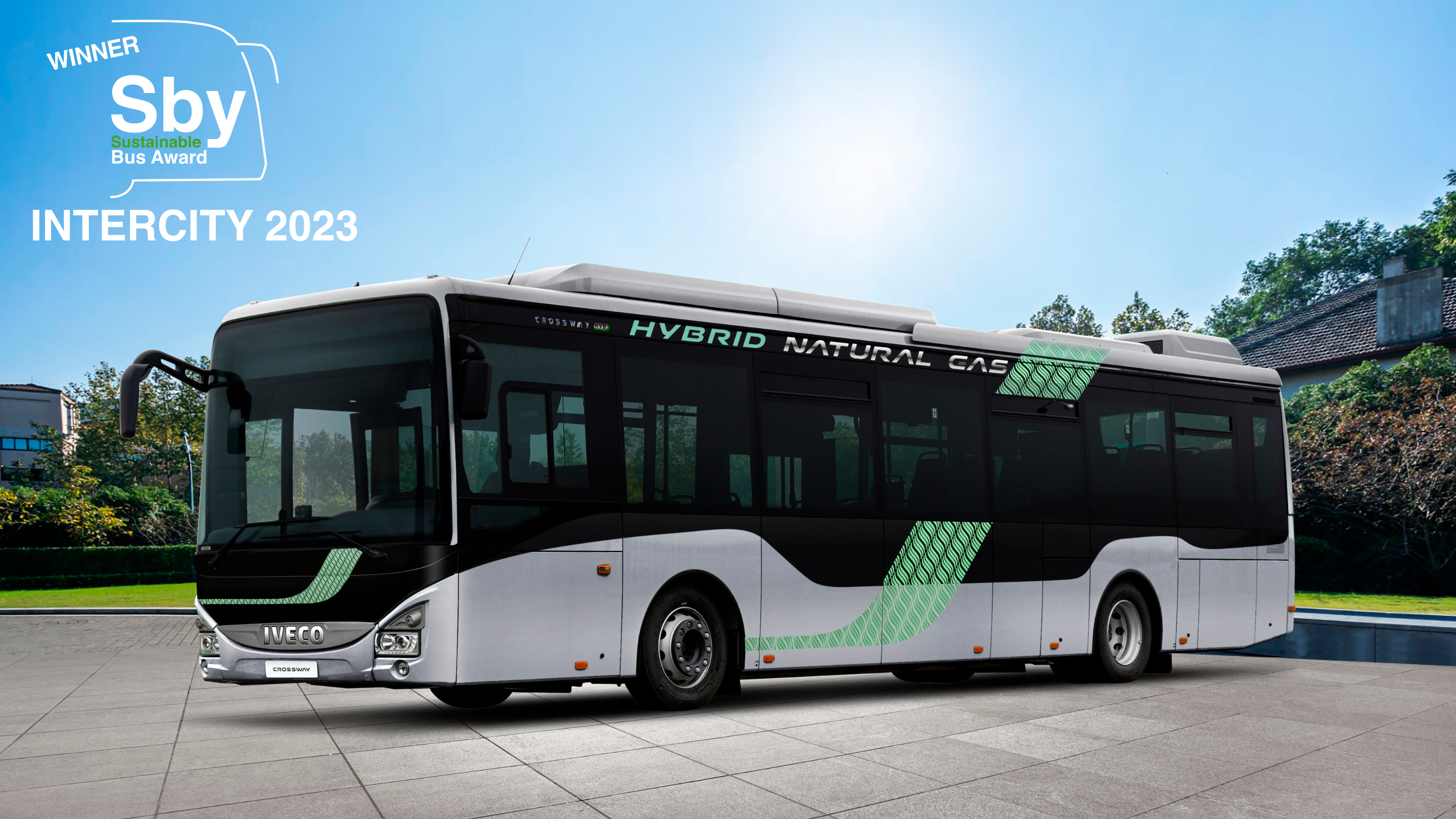 Iveco Bus Crossway LE Hybrid CNG
A clear trend can be observed on the European market today with regard to the energy transition in Class II: the increase in the volume of gas-powered vehicles (as much as +60% between 2020 and 2021). A technology that only a few years ago was relegated to the urban perimeter is now becoming a real alternative to diesel in intercity operations. Iveco Bus, European leader in the segment, raises the bar by combining CNG roof-mounted tanks with mild hybrid module, signed Voith. The result is a vehicle, already presented this year in a number of tenders and available on the market from 2023, that represents a reliable and sustainable alternative for those who are looking at reducing emissions in the intercity segment. Indeed, the use of this technology is expected to cut fuel consumption by 15%, and TCO by 5%. With biofuel, up to 84% CO2 reduction can be achieved.
Coach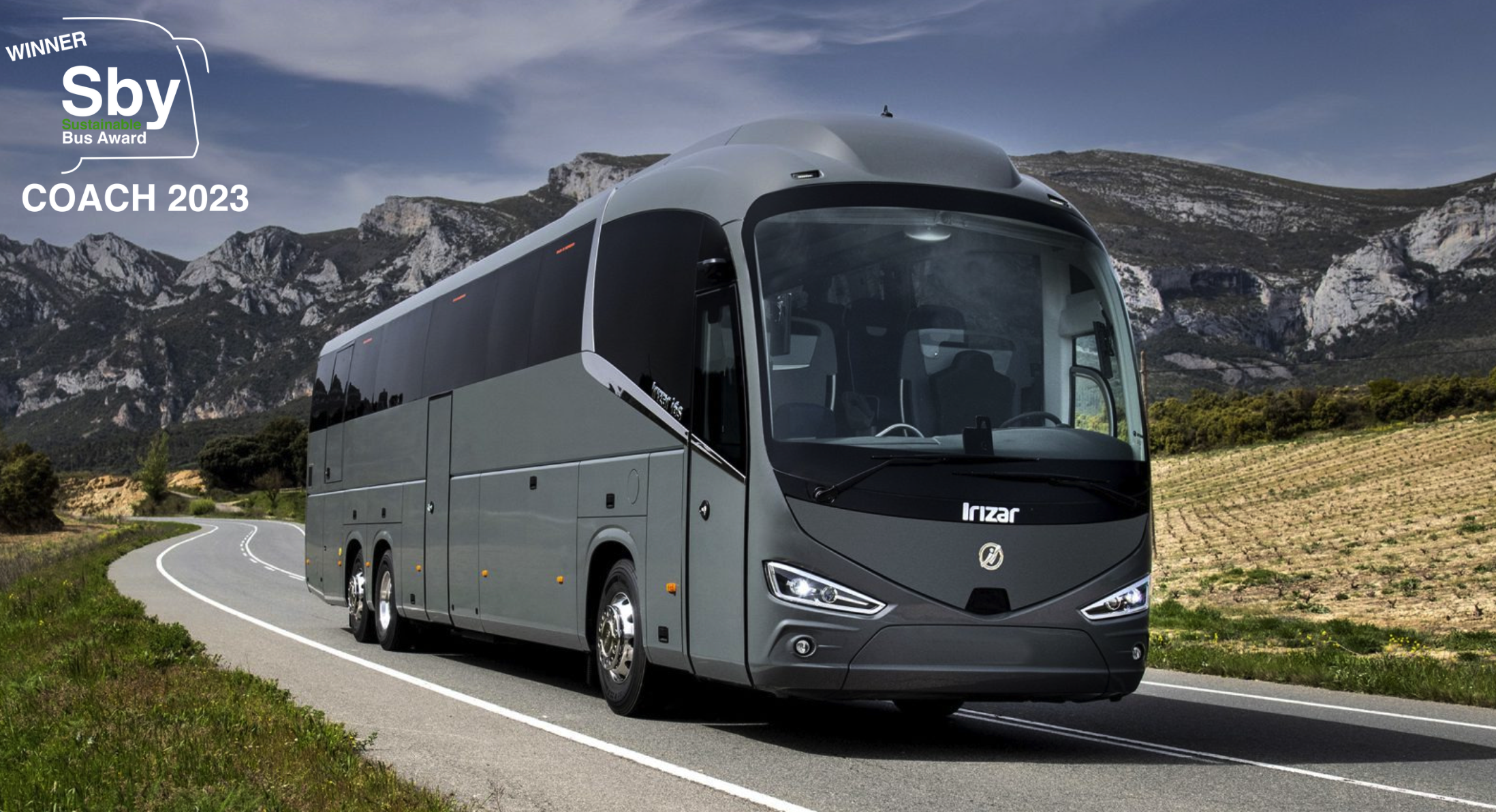 Irizar i6S Efficient
Fuel consumption cut by 13 per cent, aerodynamic coefficient improved by 30 per cent, adoption of composite materials to reduce mass (some 950 kg less) and integrated predictive maintenance technologies to reduce downtime. Irizar has redesigned its i6S with one single goal: achieving greater operational efficiency, which is essential for a sector whose restart is being affected by the price pressure brought about by the energy crisis. The result is a vehicle that combines a proven platform with a series of details that significantly improve its TCO.
2022
Urban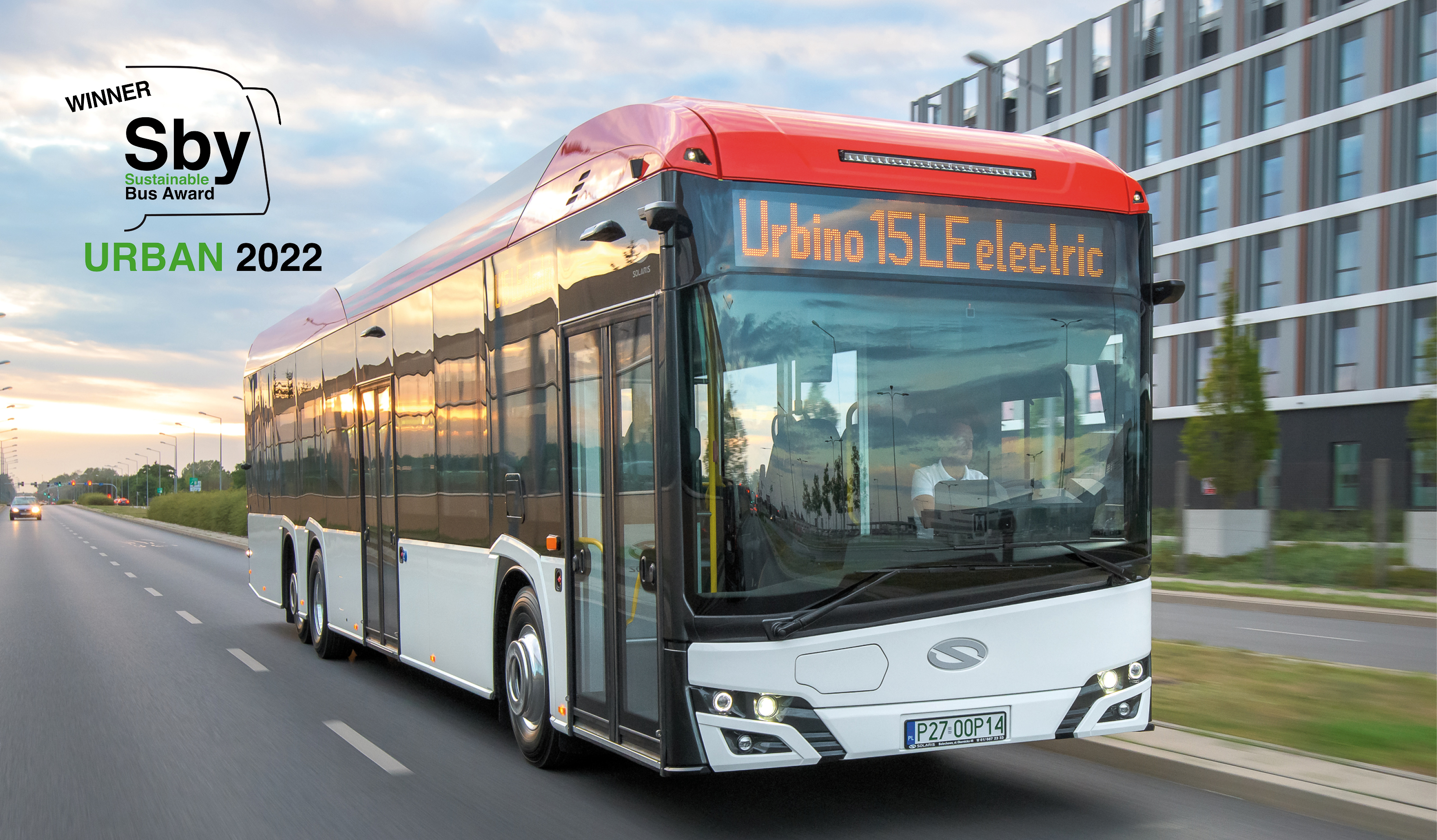 Solaris Urbino 15 LE Electric
the 3 axles architecture of Solaris Urbino 15 LE Electric improves comfort and stability, it can also be homologated for both Class 1 and Class 2. It is equipped with a full package of the latest safety electronic tools together with real time fleet monitoring and tracking. It is fitted with 6 battery packs with a total capacity of 470 kilowatt/hours and can be charged by plug-in connector. On request, the bus can be equipped with a pantograph recharging system. Last but not least, it's the first bus equipped with long awaited ZF central motor CeTrax.
Intercity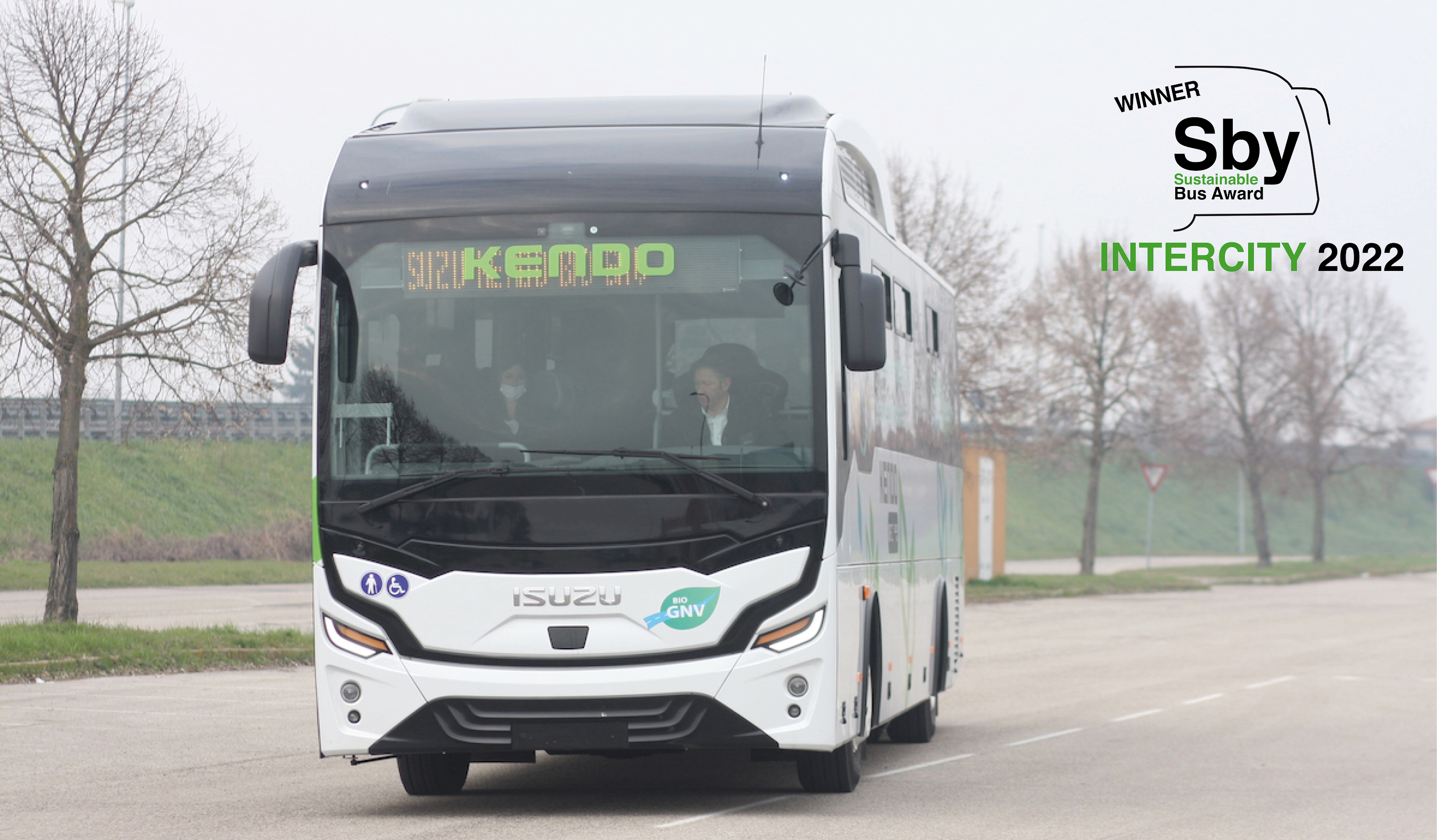 ISUZU KENDO 13 CNG
With a full safety package made of all the latest electronic tools together with fleet management services, this vehicle's very low emissions are allowed by the 320 HP CNG Cummins engine that provides the same performance as the diesel equivalent with clear benefits on the TCO.
The 81% of the vehicle components can be recycled.
Last but not least, is features the highest CNG tank capacity in its class. Tanks are placed on the roof without compromising the overall height, the space in the luggage compartment, and the very good design of the vehicle.
Coach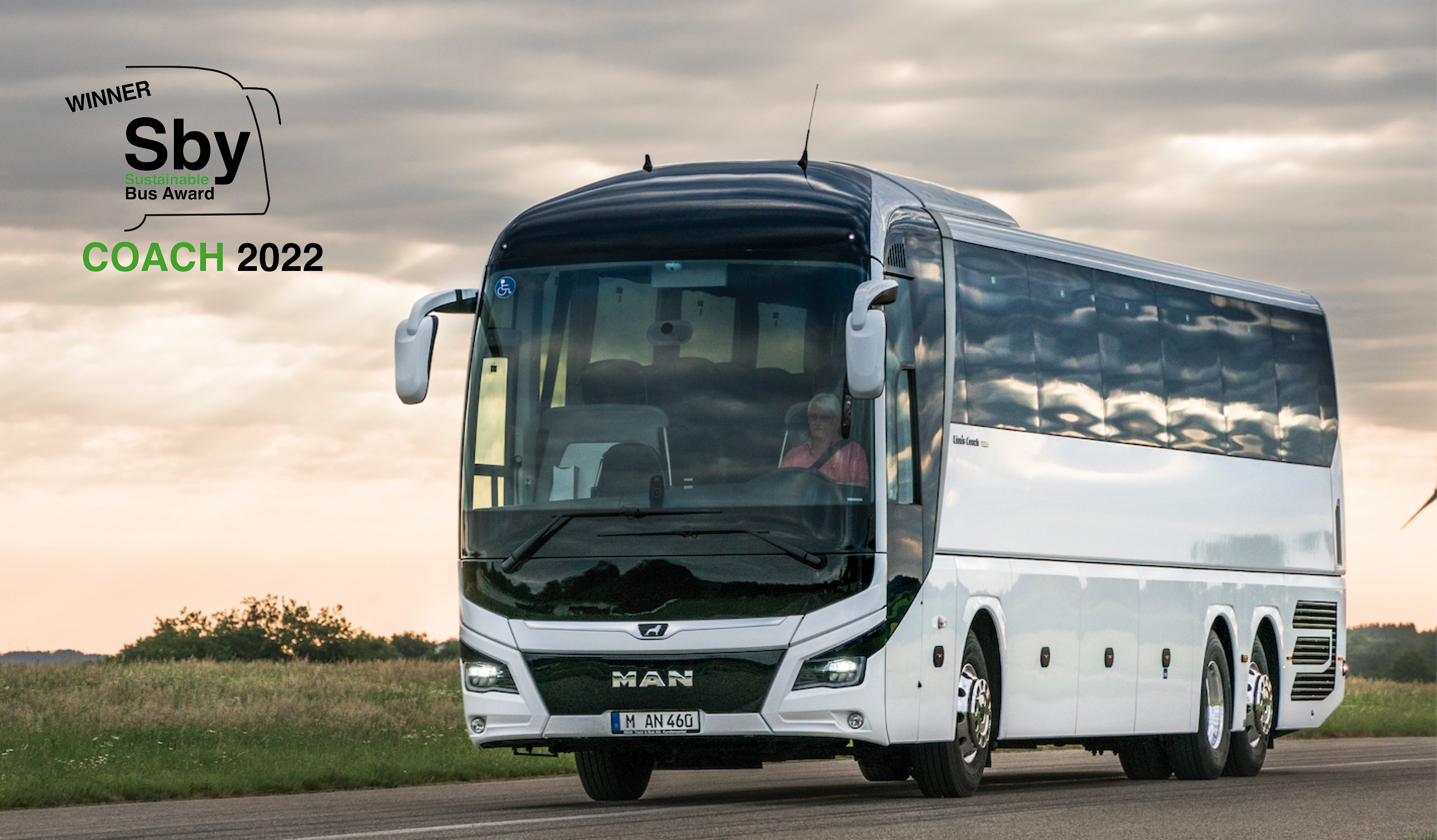 MAN Lion's Coach
MAN Lion's Coach has impressed the jury for several reasons. With the longest version it can offer space for 61 passengers with the lowest CO2 emission per passenger.
The 510 Hp engine is 100% compatible to alternative fuels such as HVO and Bio-Diesel. The maximum torque is available at a very low RPM with clear benefits for the general vehicle efficiency.
The vehicle is equipped with all the latest connectivity tools such as predictive maintenance and fleet management. It offers a full package of infotainment tools for users, together with a new generation of seats made by recycled materials.
2020
Urban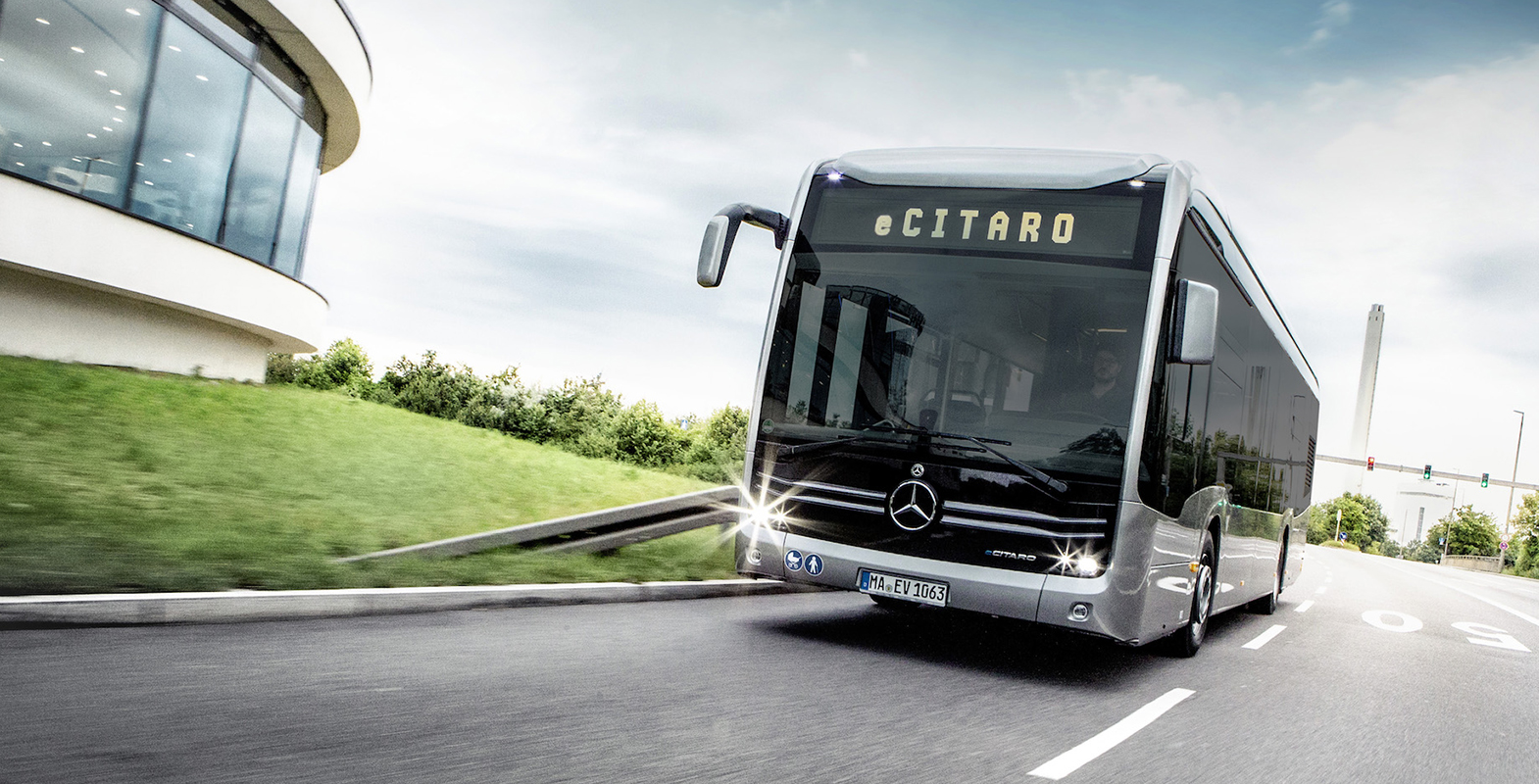 Mercedes-Benz eCitaro
The Mercedes-Benz eCitaro battery electric bus today represents the best compromise between sustainability, comfort and safety. Daimler Buses has also been the only manufacturer, to date, to declare a range that actually corresponds to that registered by the bus in real condition operations. Also, noticeably, Daimler Buses has stated that the current eCitaro is the starting point for future technological steps. 
The current Mercedes-Benz eCitaro features lithium-ion batteries for a maximum capacity of 292 kWh, that ensure a range of around 170 km in city operations (SORT 2). The eCitaro will be available with 330 kWh batteries by 2021.
Intercity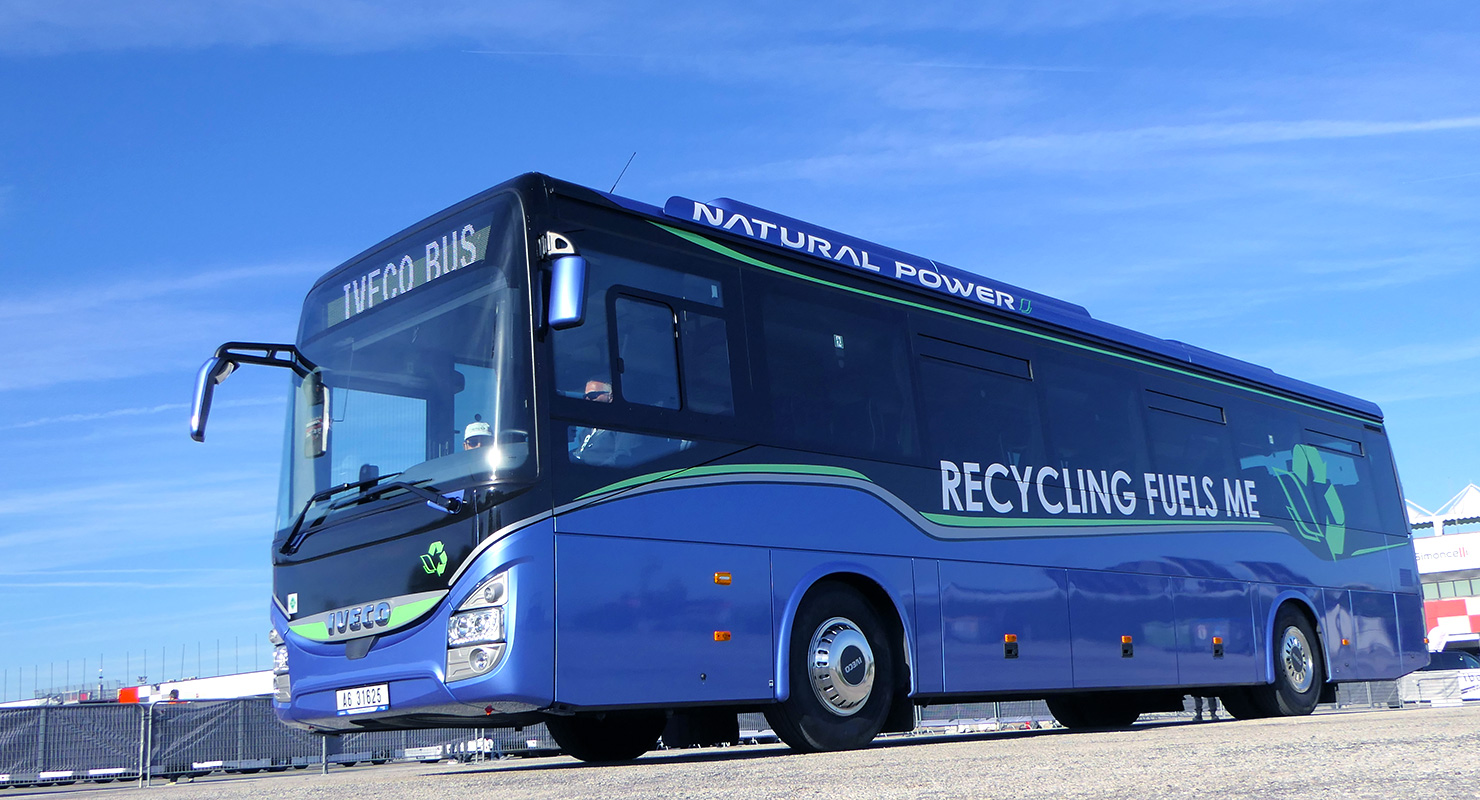 Iveco Crossway NP NF
The Iveco Bus Crossway NP in Normal Floor version inaugurates a new category and allows operators to deal with the topic of energy transition even in suburban routes where diesel engines, to date, have a full monopoly.
The Iveco Bus Crossway NP Normal Floor is powered by a 360 hp natural gas engine and, thanks to the positioning of the tanks integrated in the roof, ensures high manoeuvrability and a homogeneously distributed weight balance.
This architecture has the advantage of preserving space in the luggage compartment, a crucial element for lines on extra-urban routes.
Coach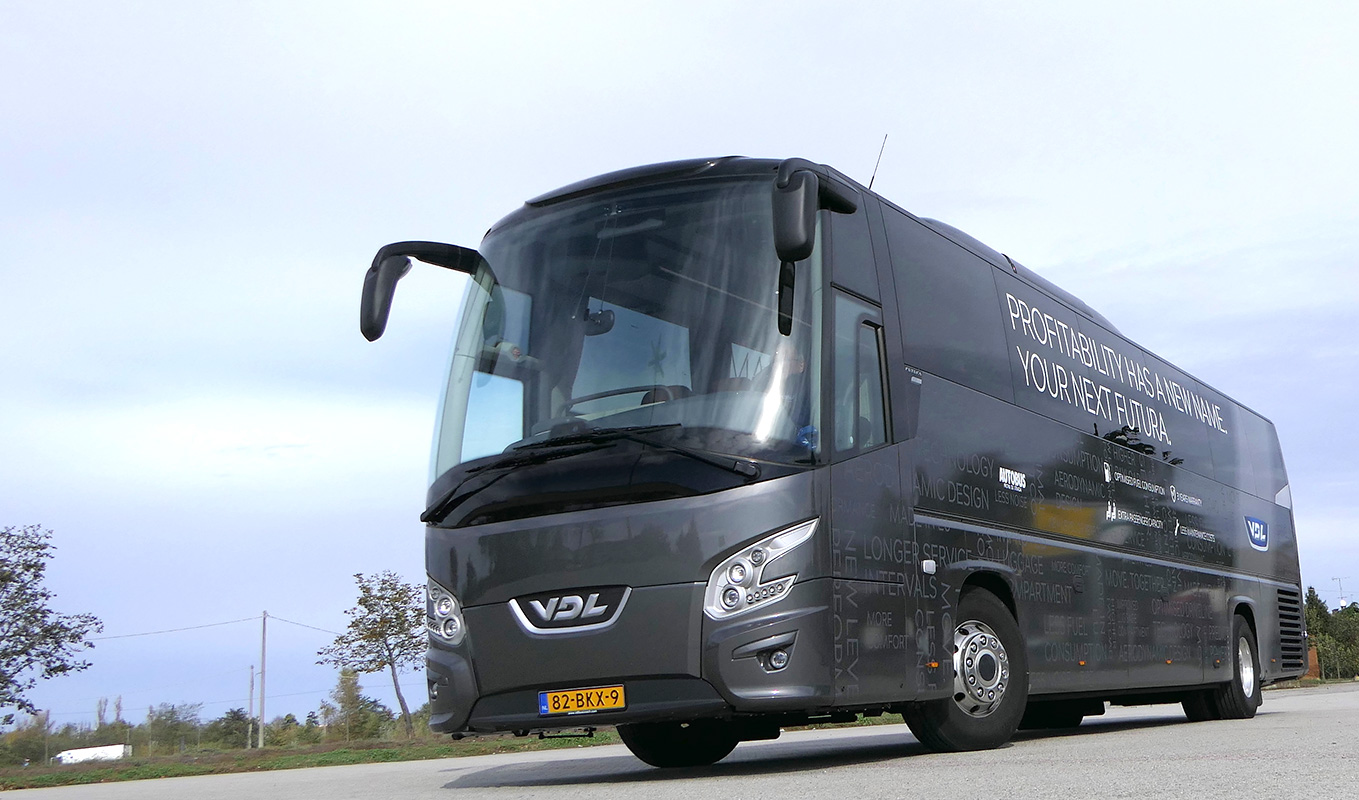 VDL Futura FHD2
The VDL Futura FHD2 with new driveline features a 100 kilos reduction of the total weight, the frontal kneeling system that activates when the speed is over 95 km/h and and the Predictive Powertrain Control.
Last but not least, the coach by VDL represents the best application so far of the new driveline composed by the Daf MX-11 (in a renewed version) together with the ZF Traxon transmission.
Thanks to this full package, the 13-metre two axles version of the Futura FHD2 has set some fuel consumption records according to tests drive carried by several European magazines.
2019
Urban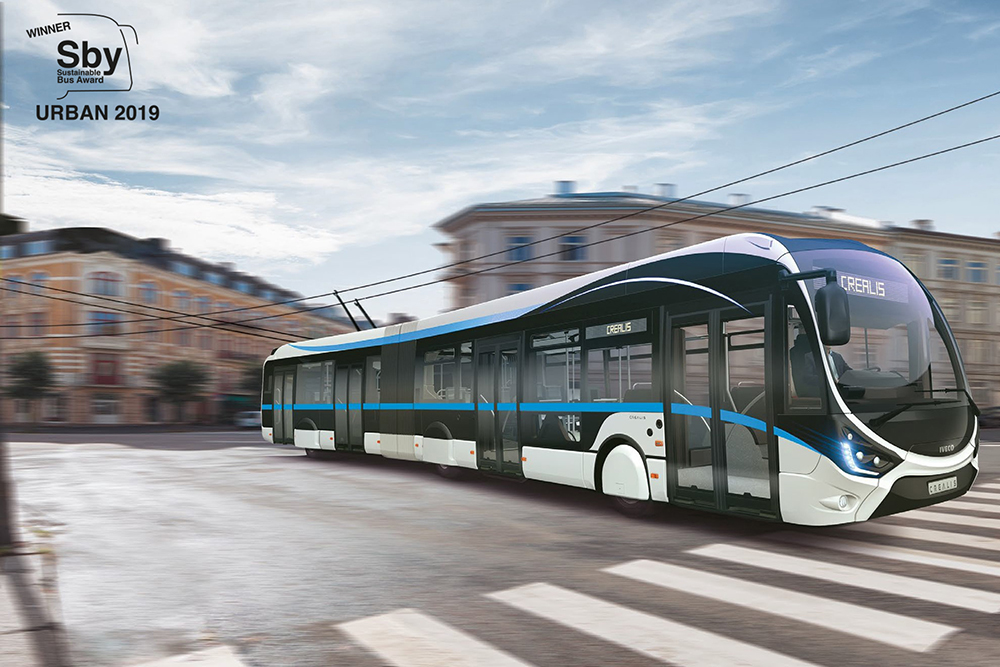 Iveco Crealis 18 m In-Motion-Charging
The 'In Motion Charging' technical solution, that allows the vehicle to run in full electric mode where there is no aerial infrastructure, can both preserve the future of trolleybuses and optimize the debut of newcomers into the 'electro-mobility world'.
The main advantage is the weight optimization and the downsizing in terms of battery packs. This means a triple positive impact: on cost, on recyclability and on safety.
Iveco Bus, powered by Skoda Electric, places on the market a trolleybus capable of adapting to any usage profile without having any harmful impact on the historical city centers.
Intercity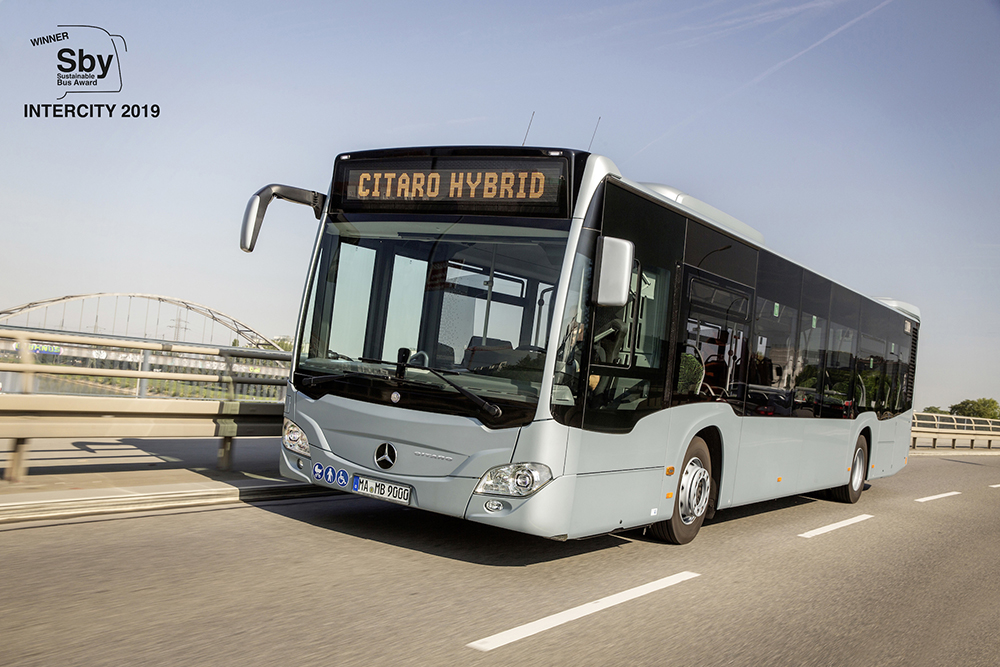 Mercedes-Benz Citaro  Hybrid
The mild hybrid Mercedes-Benz Citaro  Hybrid optimizes fuel consumption with a reasonable extra-cost.
In-line rear axle Mercedes RO440 also gives an extra rolling resistance optimization compared to the urban version.
The vehicle offers a good balance of evaluations according to SBY's criteria.
Mercedes-Benz Citaro  Hybrid represents a unique product in its segment: a 7.7 litres diesel engine (260 kW) works together with a 14 kW electric motor water cooled that takes electricity from supercaps.
Coach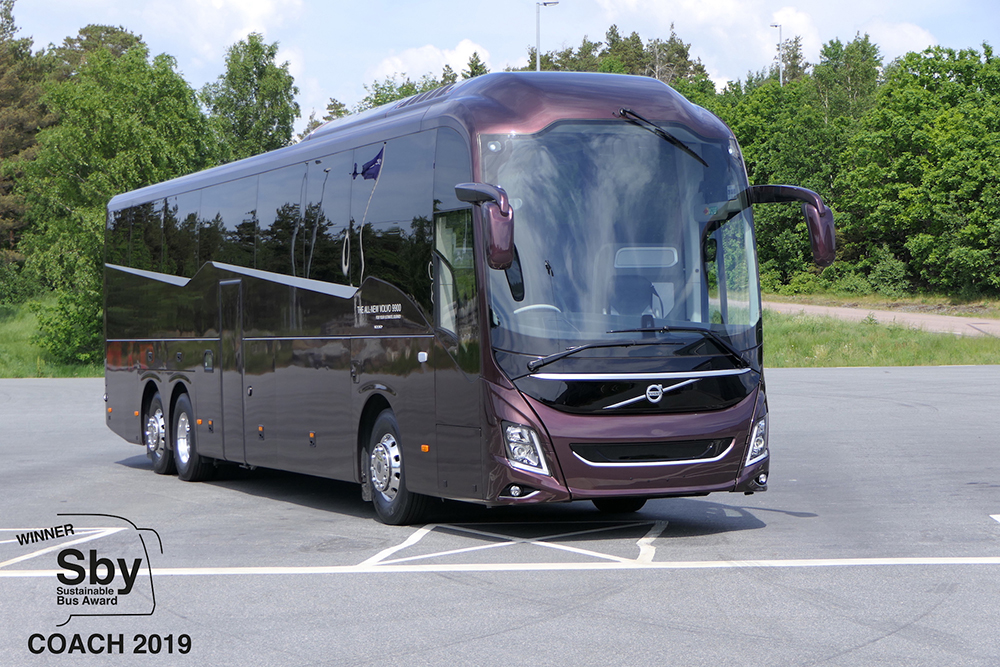 Volvo 9900
The launch of the new 9900 range represents a real turning point for Volvo.
The new coach raises the level of comfort and aesthetic impact: the outcome is a coach full of novelties.
Modern design, improved Cx and new driving area, together with the well known Volvo Dynamic Steering, are just some of the main new features developed by the Swedish manufacturer.
Under the bonnet, six cylinders D11K is available in 430 or 460 hp version. It works together with I-Shift transmission.
2018
Urban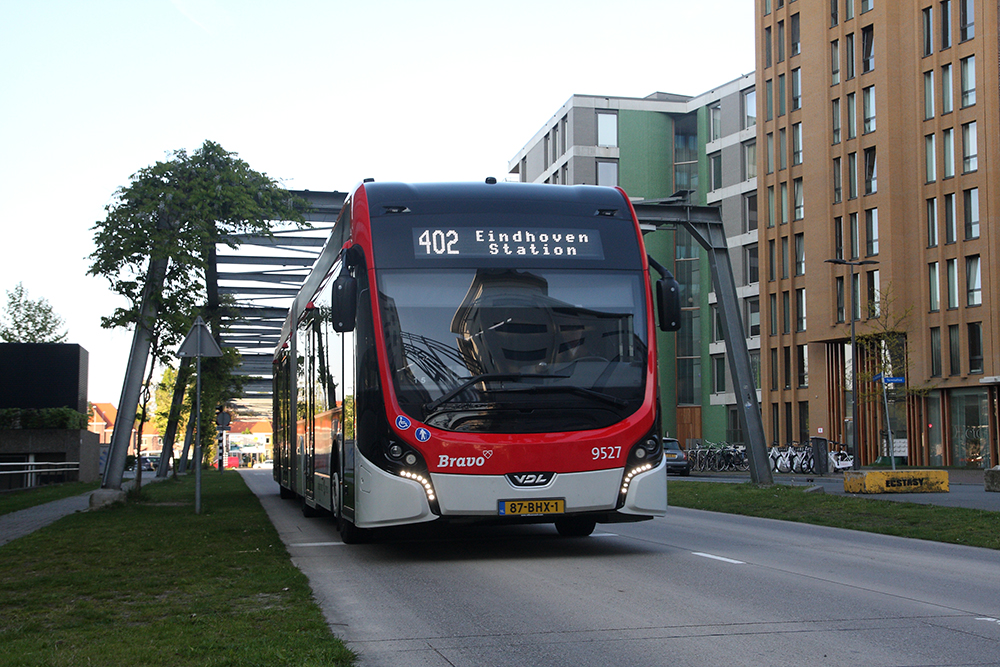 Vdl Citea Slfa-181 Electric
Future urban mobility will be electric. It's the shared opinion of Europe and Uitp.
Vdl is the first manufacturer with a strict modular electric driveline for all models. Vdl Citea Electric range embraces 9 to 18,75 meters models. In particular, 18 meters buses are powered by Siemens electric engine capable of delivering 210 chilowatt for a peak torque of 3.800 Nm.
Thanks to the lighter body now on market, Vdl Citea Slfa-181 Electric can board up to 145 passengers, a number of passenger very close to a similar diesel bus.
Citea Electric can meet every operational and infrastructural need thanks to an offer that covers both pantograph and plug-in charging systems.
Intercity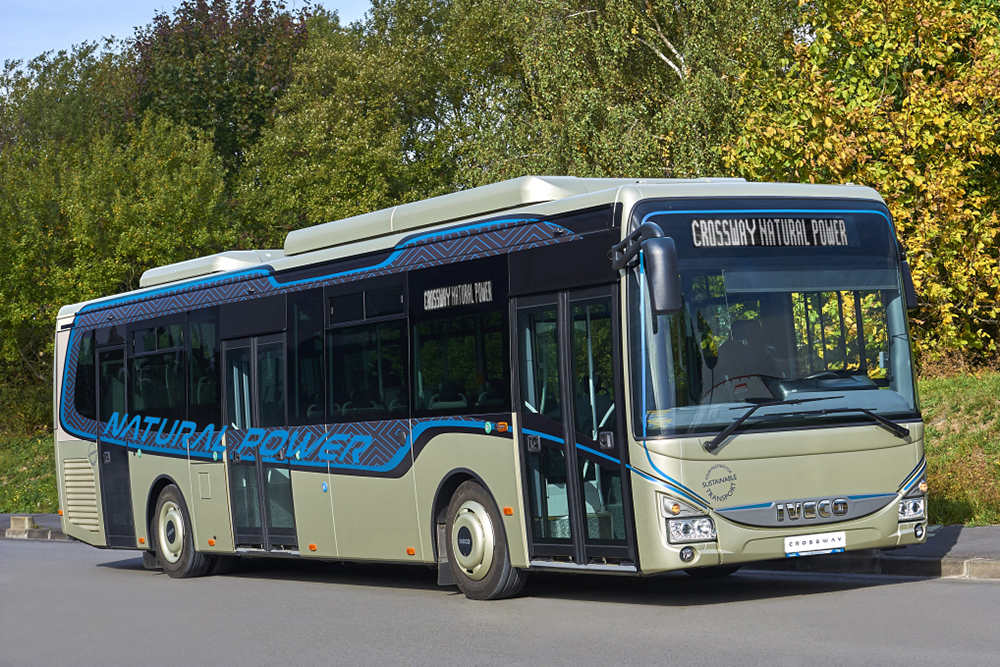 Iveco Crossway Le NP
It's the first time a manufacturer proposes an intercity low entry bus with gas engine. Iveco accepts the challenge with an innovative product.
Four gas tanks (over than 1.200 liter of capacity) are positioned on the front part of the roof so as not to affect the maximum height of the bus, which remains the same as diesel versions.
Iveco has opted for brand new Cursor 9 Cng engine (360 hp and 1.650 Nm) and automatic transmission in order to meet different kind of needs. Thanks to the tanks big capacity, Crossway Le Natural Power promises an autonomy of more than 600 km, the same as a similar diesel bus, but with significantly reduced emissions of polluting substances.
Coach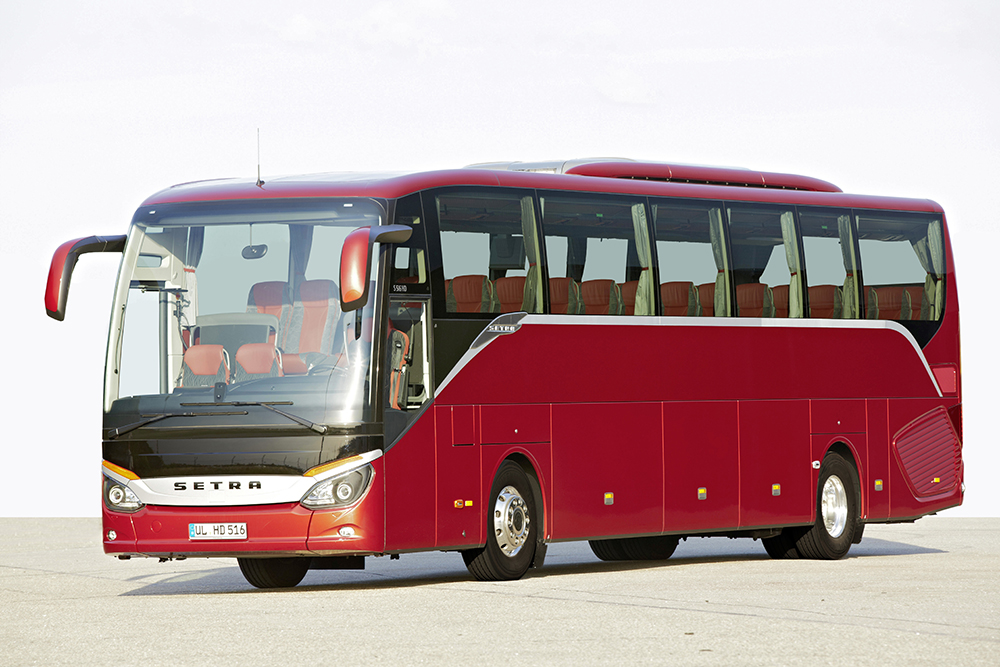 Setra ComfortClass S516 Hd/2
The 13 metres two axles coach represents the new standard for touristic services.
Setra, with the ComfortClass S 516 Hd/2, proposes to the market a coach with high technical features.
The Om 470 Euro VIC engine coupled with Mercedes Powershift (6 or 8 gears) creates a balance between comfort and low consumption.
This last result relies also on Ppc (Predictive Powertrain Control) and Edf (Eco Drive Feedback) systems.
About safety, Setra comes with Fcg (Front Collision Guard) and with Aba 3 (Active Brake Assist 3).
2017
Coach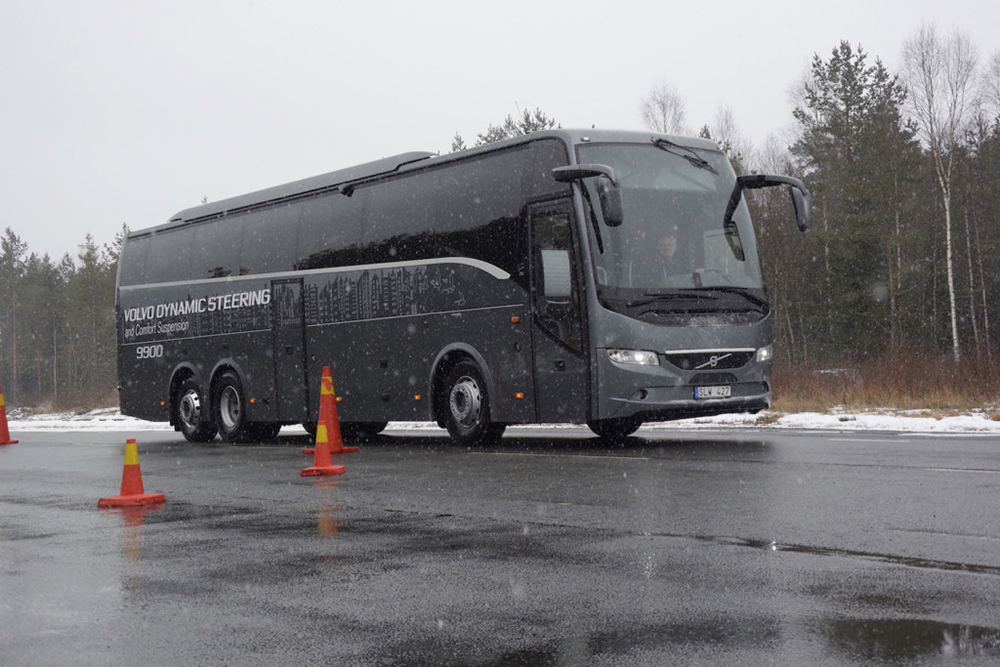 Volvo 9900 Vds
Volvo 9900 Vds is the only coach provided with a revolutionary steering system (Volvo Dynamic Steering), wich increases comfort for both driver and passengers.
The jury has identified, in this specific case, comfort as an intrinsic element of sustainability concept. In order to persuade more people than possibile to abandon private cars for collective transportation, buses and coaches must offer high comfort standards.